Positive Behavior Intervention Support (PBIS)
Positive Behavior Intervention Support (PBIS)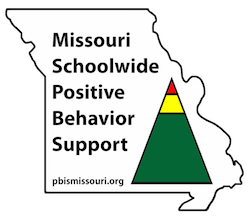 PBIS is a research-based systems approach designed to enhance the capacity of schools to effectively educate all students, including those students with challenging social behaviors. Efforts are made to prevent the troubling behavior from occurring in the first place, rather than reacting after there is a problem.
What does PBIS stand for?
Positive Behavior Interventions and Supports. It is also known as Positive Behavior Interventions (PBS) or School-wide Positive Behavior Supports (SWPBS).

What is PBIS?
Positive Behavior Interventions and Supports is a general approach to supporting the academic and social success of all children in a school. Attention is focused on creating and maintaining a positive environment in school by teaching and encouraging appropriate behavior and discouraging problem behavior.
What is Primary Prevention?
Primary prevention refers to the features of the PBIS system that involve all students, and staff in all areas of the school and all times of the day. There is a school leadership team that includes representation from the school administration, a cross-section of grade level teachers and support staff, specialists, and optimally, parents. There are school-wide behavior expectations established and directly taught to students. There is a system in place to acknowledge appropriate behavior and discourage problem behavior. There are procedures in place to examine data for ongoing monitoring and evaluation.
What is Secondary Prevention?
The Secondary, or Targeted, level of prevention refers to the individual and small group supports that are put in place for those students who need greater assistance in developing behavioral competence and self-management that is provided at the Universal level. There is a team in place that focuses on establishing a more individualized approach to meet the needs of these students. Many schools use a Check and Connect system, Mentoring, HUGS (Hello, Update, Good-bye) or small group interventions at this level of support. A functional behavior assessment and behavior intervention plan is often used to identify how to best serve the individual needs of the child.
What is Tertiary Prevention?
Tertiary or Intensive level of prevention is used to reduce the intensity and severity of problem behavior in the one to five percent of students who need the most intensive level of support. These are the children who engage in chronic challenging behavior that is unresponsive to the primary or secondary systems of support. They are often in trouble at school, in the home and in their neighborhood or community. In the Worcester Public Schools, we use a variety of interventions for these students including a strength-based, family-focused process, often referred to as wraparound. Efforts are made to involve all supports available for these students, formal and informal, to achieve better outcomes for the youth and their families.
Why should schools focus on teaching social behavior?
It is the responsibility of schools to educate their students. PBIS works to establish a positive climate with the goal of preventing inappropriate behavior, thereby allowing teachers to spend more time on instruction and less time reacting to negative student behavior. Teaching, modeling, and reinforcing positive social behavior is important to a student's educational experience.
Why should students be rewarded for doing what is expected?
Many students require acknowledgment that they are learning the necessary skills for success, in both the academic or social areas. When positive feedback is provided that behavioral skills are developing correctly and goals are being met, the appropriate behavior is more likely to be repeated in the future. People of all ages respond to support and acknowledgment of their success.
Does PBIS mean that student's don't get consequences for inappropriate behavior?
Many students only get recognized when they misbehave and therefore the misbehavior is often reinforced through increased attention. There are also students who act out in class to avoid challenging academic tasks. When we fail to examine the causes of the misbehavior we often miss an opportunity to provide the correct intervention for the student. PBIS strives to provide logical consequences for behavior and works toward the goal of addressing unwanted behavior through an environmental redesign, curriculum redesign, modification of behavior, and function-based behavior support. School and student safety are always the paramount consideration.
How does PBIS involve parents?
Parent involvement is a strong component of a successful PBIS system in any school. Schools are urged to recruit parents for the Universal PBIS leadership team. If parents are aware of school expectations they are able to reinforce the behavioral expectations in conversations with their children. Many schools dedicate a portion of the Parent-Teacher meetings to update the membership about PBIS in the school. Often there are messages in school newsletters that celebrate the successes of the PBIS system in the school as well.
How does a school become involved in the PBIS system?
PBIS requires active administrative leadership as well as staff involvement and classroom implementation. It takes time, effort and cooperation to change the way a school handles discipline issues. It requires everyone in the school to commit to the move from a reactive style to a proactive and preventative discipline system.
Additional information can be found on the national PBIS site, www.pbis.org or
http://pbismissouri.org/.
Bolivar Primary School Matrix
Bolivar Primary School
Behavior Expectation
Be…

All Locations

Classroom

Cafeteria

Hallways

Respectful

*Treat others the way you want to be treated

*Be an active listener

*Follow adult directions

*Use polite language

*Help keep the school orderly and clean

*Value each other

* Inside or Outside voice when appropriate

* Help one another

*Honor personal space & classroom property

*Practice active listening

*Use positive language

*Follow adult directions

* Value others
*Enter and exit peacefully

*Respect personal space & keep hands to self

* Use of inside voice
* Use good manners

*Walk quietly

*Respect each other's space and property

Responsible

*Accept consequences

*Use materials and equipment safely
* Be an active participant

*Give full effort

* Celebrate success

*Be on time every day

* Hand in homework

*Seek out assistance when needed

*Accept consequences

*Stay on task

*Raise hand for help
* Respond to callbacks promptly

*Get everything you need the first time
*Eat food properly
*Follow cafeteria procedures

* Stay in your seat and face the way you eat

*Go to class promptly
*Second tile, single file

Safe

*Keep lines tight

*Report any problems

*Ask permission to leave any setting

*Walk in appropriate areas

*Walk

*Follow all classroom rules

*Place trash only in a trash can
*Walk at all times
* Enter and exit peacefully

*Keep lines tight
*Be polite, walk to the right
Bolivar Primary School
Behavior Expectations
Be…

Bathroom

Playground

Assemblies

Bus

Respectful

*Respect others privacy

*Clean up after self
*Use of inside voice

*Include others

*Enter and exit peacefully

*Share

*Be polite

* Practice active listening

*Applaud appropriately

*Respect personal space

*Greet & thank the bus driver

*Follow bus rules

*Be fight free

Responsible

*Report problems

*Flush

*Use toilet paper and paper towels properly

*Return to class promptly

*Take care of equipment

*Follow playground rules

*Line up at first signal

*Report problems

*Be fight free

*Stand when signaled

*Sit on your pockets
*Respond to callbacks promptly

*Keep belongings in an appropriate place

*Follow driver's instructions

Safe

*Wash hands with soap and water

*Keep water in the sink

*Turn off water

*Use equipment properly

*Show good sportsmanship

*Stay in approved areas

*Walk

*Enter and exit peacefully

*Remain in a seat

*Keep bus clean
*Enter and exit peacefully