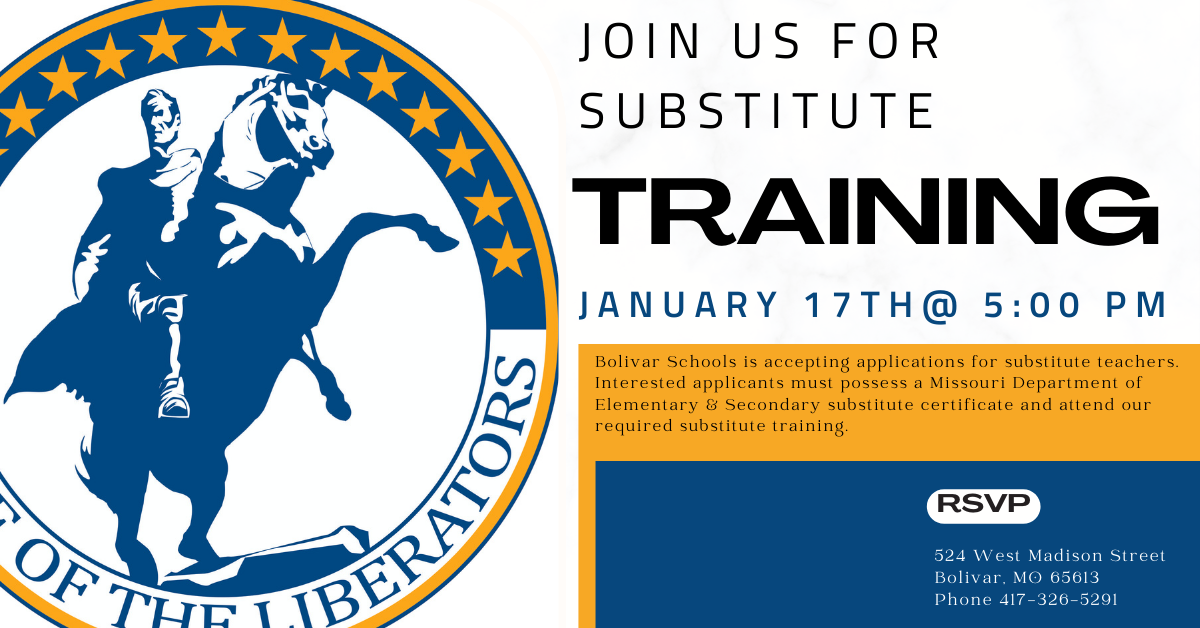 Applicants must possess a Content Substitute Certificate. For more information on possessing your certificate, visit:
https://dese.mo.gov/educator-quality/certification/substitute-teachers
To apply for a substitute position with Bolivar R-I Schools, please print and complete the Substitute Teacher Application and provide the required documents listed on the application.
Applications must be delivered in person to Amber Davenport at the Bolivar R-I School Administrative Offices, 524 W. Madison St., Bolivar, MO.
If you were a Bolivar R-I Schools substitute, and worked at least one day, during the 2021-2022 school year:
You will be required to complete the Grandfathered Substitute Application, which can be picked up at Bolivar R-I Schools Administrative Offices located at 524 West Madison Street, Bolivar.
Your Missouri Highway Patrol fingerprints with the Bolivar R-1 Schools code 1637 must not have lapsed 5 years or it will be required to be completed again.
In-person training is not required; and
You must be registered and give written consent for Bolivar R-1 Schools to pull your background yearly with the Family Care Safety Registry (Included in the application)
Resignations or Retirees From Bolivar School District
Anyone who resigns or retires from Bolivar School District that applies to be a substitute teacher must follow the 26-week separate period before they can be added to the active substitute list for the district.

If you were not a Bolivar R-I Schools substitute during the 2021- 2022 school year:

An application and the application required documents must be approved;
In-person training by Assistant Superintendent Dr. Wall is required;
Fingerprinting with the Bolivar R-1 Schools code 1637 by The Missouri Highway Patrol is required. (Good for 5 years only)
Registration with the Family Care Safety Registry is required and pulled yearly with written consent. (Included in the application)